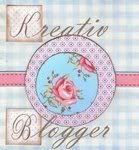 Hey Y'all!
I just got my first award today! I'm so happy! :D Now I have to say seven things about myself, and award this to seven blogging friends! Here we go!
1. I love God!!!! So much!!!!
2. I love being with friends and family! I've got some awesome peeps! :P LOL. And YOU might be one of them! :D
3. I love scrapbooking, crocheting, and other crafts!
4. I love reading!
5. I love blogging! Hehehe.
6. I love making new, Christian, friends; both online, and personally!
7. I obviously LOVE exclamation points!!!! LOL :P
Okay, I know I did seven things I like, but, that's seven things about me! Right?! Here's the people I picked. :D
Libby
I love your blogs, sister! You blogs about interesting, important, and fun things!
Emily Rose
Emily, I have loved your blog since...since....sometime. I don't know when I found your blog. :D
Breezy
I LOVE your art, Breezy!!!! And your posts!!!!
iheart
You girls post about such a wide variety of important things applying to the Christian life. I really love your blog. And wish more people knew of it! You are a very encouraging bunch of Christian friends! :)
Chelsea
Girl! You are the only person who has told me the way you found my blog! And, well, it was unexpected, yet cool! :D I love your blog!
Rachel
Rachel, I love your posts! I wish you would post more often... hint hint..... :D You are very encouraging, sister!
If you haven't seen some of these girl's blogs, then I definitely encourage you to! They are great Christian friends!
I don't know any other. :( Now I would love to meet some of you other bloggers! Just come introduce yourself anytime! :D
I am trying to get a few friends to start blogs, but, it's uphill work! :( If y'all have anything you'd like to say....LOL. I can tell 'em! :D
In Christ,